"I always wanted to become a scientist", says David, "I liked creating things, but he nearest I got to it was a degree in Chemistry and Maths". A different discipline in Journalism, Art and Film would become David's passion garnering International awards and critical comments.
International commentators refer to David's unique cinematic aesthetic and expressions found in his work which covers news, commercials, promo and narrative video and long form. Apple called him a "One Man Hurricane", whilst Channel 4 News' Jon Snow says he's an "original", and in the Documentary Handbook i, author and veteran documentary maker Peter Lee-Wright says, "there is a distinctive film aesthetic to much of what he does". David attributes his broad stylistic and philosophical approach to media making from his electic upbringing in the UK and Ghana where he attended secondary school.
"In Ghana, it's perhaps not well known, but it's an electic culture, and also includes communities of international cultures such as Indian, Chinese and Lebanese which had some influence on me", he says. In later years David worked in South Africa as a freelance journalist for the BBC World Service during the end days of Apartheid and in the mid 1990s he was one of the first videojournalists in the UK. As a television journalist he's worked for BBC Newsnight, ABC News and Channel 4 News, amongst others.
As a filmmaker he's worked on a broad array of assignments, from directing commercials broadcast on CNN International etc., creating photo films, such as
Obama's 100 Days
to accompany a live classical ensemble at the Royal Festival Hall, and made films on those whose voices are often unheard. He's trained visual journaists and directors in Tunisia, Lebanon, China, Egypt and US and works with MA students as a senior lecturer at the University of Westminster in docs, journalism and coding/creating interactive websites..
Following a postgrad in Journalism in Falmouth, and studies in Economics at the LSE, he has a doctorate from University College Dublin, which, amongst others, looks at aesthetics and cognitive reception to film and videojournalism.
David is a juror for the Royal Television Society and a recipient of a number of International awards for his work, such as the US Knight Batten Awards for Innovation in Journalism. Previous winners include:
MSNBC, Storify, and the New York Times
, followed by the International Videojournalism Awards for an independent production in Berlin. He is a member of the UK's leading think tank on foreign affairs Chatham House, and his interests embrace creativity and diversity.
The Evening Standard Magazine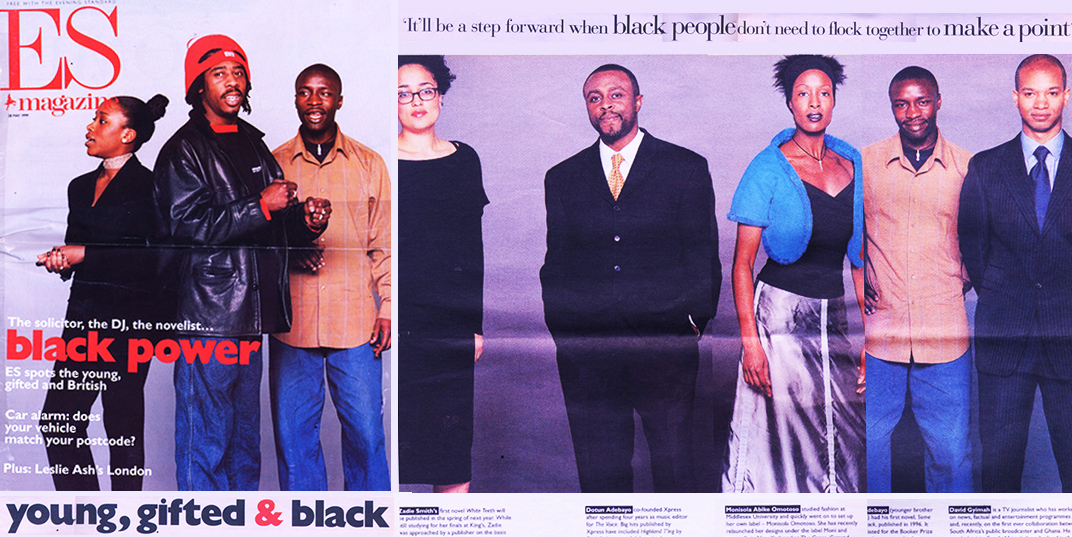 On the cusp of a new millennium, David was one of several young Londoners featured in various newspapers and magazines, such as the Evening Standard Magazine as role models for a next generation. Labelled 'Young Gifted and Black", though David says he did not feel that way.